Monday, March 29, 2021
Issue # 9.4.1 "Beauty and the Beast"
[ Home | Blog | Twitter | Facebook | Discord ]
HOUSTON SURVIVES RALLY, BAYLOR WINS SHOOTOUT

Pac Attack is now in the lead; just 7 can
win the pool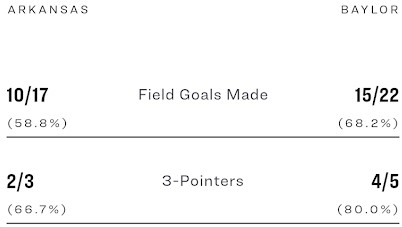 CYPRESS BOY SCOUTS, CA (smt) - #2MW-Houston blew a 17-point lead but then held #12MW-Oregon St. without a field goal until the final seconds to reach their first Final Four since '84, 67-61. Houston led 34-17 at the half despite shooting 29% thanks to their defense and offensive rebounding. They held the Beavers without a field goal (or a point) in the last 4:49 of the first half as well as no field goals for more than 3 minutes after the Beavers incredibly tied it at 55. Houston missed 42 shots (Oregon St only took 47 shots) but got 19 offensive rebounds and made 11 threes.
Whereas the first match were clanks everywhere in the first half, the second match was beauty. The score was already 38-25 just 13 minutes into the game (projected 194 total at end of game) with both teams shooting better than 59%. Unfortunately, #3S-Arkansas lost their shooting touch late, going more than 8:10 without a field goal (0/12) to allow #1S-Baylor take a 62-58 lead to 74-64 with 1:20 left. The Bears made their first Final Four since 1950 with the 81-72 victory.
In the pool, 22 got both teams correct sending Pac Attack to the lead with 105 pts. Suznana (101), Mr. & Mrs. Dreamboat (100), The Fabone Marathon (99), and Matsuz (98) take up spots 3-6. License to ILL fell a spot to 2nd (102) but can't finish higher than 5th. 53 went 0-2 sending Big Luther and Flamingo22 into a tie for last (58).
Suznana has a 1 in 4 chance to win the pool while Pac Attack has the best chance for money (78.1%). Each game eliminated 8 entries leaving just 38 alive. Five more can't win the pool leaving only 7.
Bonus2 (Total Points in Final) will be the Bonus. We won't have info on who can win that until after the Semifinals. While that technically brings everyone back, if you guess the total points in final correctly (or closest to), the highest placement will win the Bonus.
We are now on Twitter (@HWCI_Pools). Please follow! I will post using #hwcincaa mini-updates during the day so you can follow without being on Twitter (and if you are, please use #hwcincaa). Please join our Facebook HWCI NCAA Pool Group or post comments on our blog or Discord server. Here you can join the group and meet your competitors, make new friends, set up NCAA watching gatherings, and post stuff to the wall (pictures, witty comments, etc.).
Tids & Bits - 14 lost Arkansas in their Final Four... 99 picked Baylor and 35 picked Houston... Ormonde3 is 8th-T (96) but is eliminated while Stay at Homie (Baylor over USC in final) is 102nd-T (78) but can still win 4th... License to ILL is 2nd but can't win the pool while Hawkeye 2 (Baylor over Michigan in final) is 24th-T (90) but can still finish 1st... 3 entries can still win 7th... more poor free throw shooting with Oregon St. 11/20, Houston 16/24, Arkansas 17/23... despite the 0/12 late, Arkansas still shot 48.1% (26/54)... Baylor shot 48.4% and made 8/15 threes... the Pac 12 lost their third team (12-3) and #11E-UCLA and #6W-USC play tomorrow... Oregon St was picked 12th (of 12 teams) in pre-season and nearly made the Final Four... this Elite 8 featured two double-digit seeds for the first time since '02... 7 of the 8 Elite 8 teams were west of the Mississippi (Michigan being the loner)... two Texas schools made the Final Four, can the two California teams (USC, UCLA) do it as well?...
--------
First aid on real kids (with masks) seemed odd but they were having fun with it...
Scott
---
© 1995-2021 HWCI Productions
HWCI circa 1990